Chiropractor James Myshka D.C.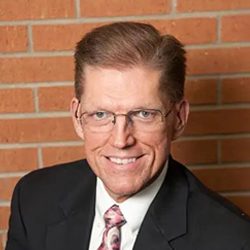 Dr. Myshka is a National Board Certified chiropractor, a Gonstead Fellow and a Gonstead Diplomat specializing in specific chiropractic adjustments, sports injuries, and auto accidents, using physiological therapeutics, exercise therapy, and nutritional counseling. Dr.Myshka serves as an expert witness for personal injury cases. 
A letter From Dr. Myshka:
When I started college my major was Electrical Engineering. In my junior year I found out engineers didn't work with people that much and I really enjoy working with people, so I decided to visit my sister in Chiropractic College that spring. I attended a chiropractic seminar with her and I knew that I wanted to become a chiropractor. I had injured my low back when I was a teenager, building our house, and had received great benefit from chiropractic care myself.
If you think about electrical engineering and electrical circuits, and then the human body and the nervous system, the entire body is run by the brain and the "wires" are the nervous system. This is how I practice chiropractic. I focus on how the nerves in the spine affect your health. A misalignment in your spine can cause neck pain, headaches, sinus problems, carpal tunnel syndrome, hyperactivity, mid back pain, indigestion, allergies, heart problems, breathing problems like asthma, low back pain, bladder and bowel problems, female problems, sciatica or leg pain, and many more. If you think about it, I am like a Human Electrical Engineer. By finding, the electrical or neurological short, and correcting the problem with an adjustment, I help the body restore the electrical connection and the patient gets well. What a great job I have.
I get to treat patients who have tried all kinds of previous treatments and still have poor health affecting their lives. Then after chiropractic care, the pain or problems go away and they return to a normal lifestyle — the one that they enjoyed before they became sick or injured.
I also enjoy working with elderly patients. I try to increase their flexibility with the adjustments and encourage them to walk or swim and become more active. Chiropractic is the best treatment I know for degeneration and arthritis.
We work with a lot of patients involved in auto accidents, sports injuries, or falls. Often, patients have an injury, go to the Emergency Room and if exams and x-rays show nothing is broken, they are released to go home. When the medications run out and the patient is still experiencing pain, chiropractic care is a great choice. I am not looking just for broken bones, but if you had an injury and that injury was forceful enough to cause pain, it may have caused a misalignment of your spine that can cause pain for a long time even when the medications wear off or run out.
Often, these injuries are treated as muscular problems. My rule of thumb is that a muscular problem will usually only last a few days. If your problem has been there more than a few days, you have to ask yourself if the source of your problem is something else.
We have found that pain or problems lasting for more than a few days are more likely neurological or a "pinched nerve" problems. That is what I specialize in as a chiropractor. Chiropractic is a Nerve Thing.
If you want to see if your pain or health problem is a nerve or chiropractic problem, please let me know. I will be glad to do a free spinal nerve examination to find out if we can help you.
I am from Northeast Arkansas outside of Jonesboro. I received my undergraduate training at Arkansas State University in Jonesboro Arkansas, and my postgraduate degree in 1986 from Life Chiropractic College in Marietta, Georgia outside of Atlanta. My wife and I moved to Fayetteville Area in 1991 and have really enjoyed living here. I enjoy fishing and watching Razorback Football and Basketball. I have been married since 1989 to my wife Kimberly, and currently live in the country west of Fayetteville.
OFFICE HOURS
---
Monday
8:00am - 12:00pm
2:30pm - 5:45pm

---
Tuesday
8:00am - 12:00pm
2:30pm - 5:45pm
---
Wednesday
8:00am - 12:00pm
2:30pm - 5:45pm
---
Thursday
8:00am - 12:00pm
2:30pm - 5:45pm
---
Friday
Closed
---
Saturday & Sunday
Closed